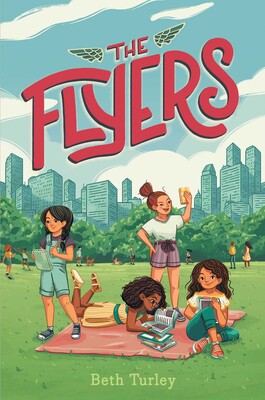 The Flyers
Four seventh-grade girls meet in the big city and learn to embrace new experiences while keeping the best parts of home with them in this sweet middle grade novel—from the author of The Last Tree Town and If This Were a Story.

With the arrival of a glossy, cream-colored envelope in the mail, Elena Martinez's dreams come true: she's been chosen for the Spread Your Wings Magazine's Young Flyers program—a week-long summer internship where she'll get to learn the ins and outs of working for the most popular teen magazine. She heads to New York City, anxious to get away from her best friend, Summer, who is suddenly spending a lot time with another girl from school and being secretive about it.

Once there Elena meets her fellow Young Flyers: Harlow, who can get to the bottom of any story, Whitney, who has spot-on fashion sense, and Cailin, a social media star with thousands of followers and an eye for photography.

As the four new friends explore the city that never sleeps, each girl brings a piece of home, and a few secrets, with them and learns that no one's life is as glossy as it may appear. But with courage, teamwork, and lots of passion, there's no stopping a Flyer.

For ages 8 to 12.
Read More