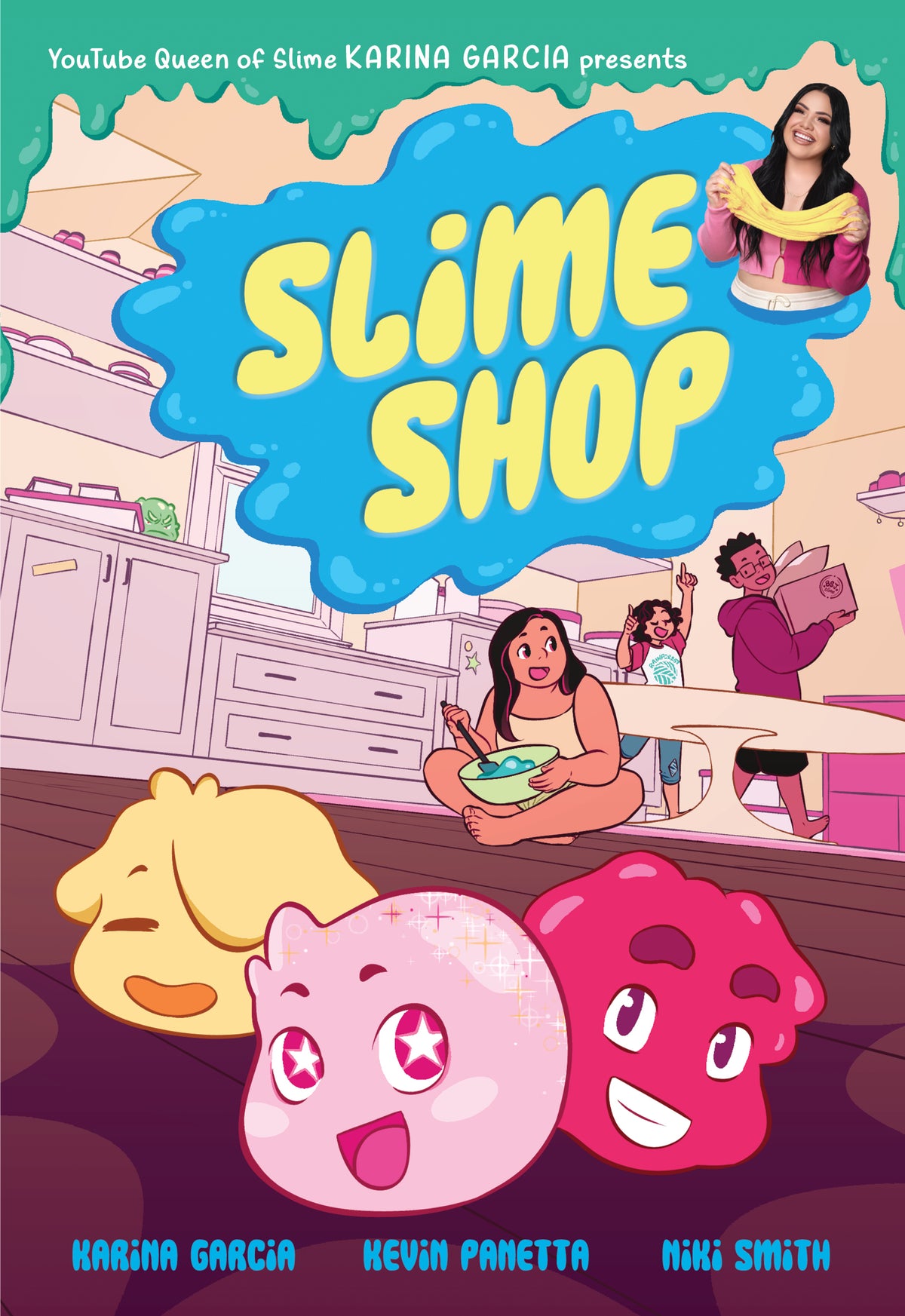 Graphic Novels
Slime Shop
YouTube Slime Queen Karina Garcia teams up with Kevin Panetta and Niki Smith for a fun, colorful adventure that follows three friends as they run their own slime shop business and the slimes who secretly come alive to help them. 
Bailey, Sophia, and Jayden run the BSJ slime shop but what the three slime makers don't know is that when they're not around, the slimes come to life! 
When the creators start shipping slimes off to who-knows-where, the slimes left at the shop start to worry that they're next. Even as Polly tries to convince her friends that everything is fine, Boris, a grumpy green slime, starts taking things into his own hands. Then slimes start disappearing and suddenly the shop is full of zombie slimes.
With half the shop zombified and the other half scared silly, Polly has no choice but to go on a quest, along with her friends Max and Karma, to discover the truth about the slimes being shipped off and a way to save her friends before it's too late. 
Will they be able to turn everyone back into themselves? Or will the slime shop get shut down for good? 
For ages 8 to 12.
Read More
New!

Out of Stock

Everything Awesome About Sharks

New!

Out of Stock

Everything Awesome About Dinosaurs

New!

Out of Stock

Dragon Kingdom of Wrenly #10: Out of Darkness

New!

Out of Stock

Hour of Need - The Daring Escape of the Danish Jews during World War II

New!

Out of Stock

New!

Out of Stock

Nell of Gumbling: My Extremely Normal Fairy-Tale Life

New!

Out of Stock

New!

Out of Stock

Zoo Patrol Squad #2: Run, Monster, Run!

New!

Out of Stock

Dragon Masters #24: Dawn of the Light Dragon

New!

Out of Stock

New!

Out of Stock

New!

Out of Stock

Pizza and Taco: Dare to be Scared!

New!

Out of Stock

New!

Out of Stock

New!

Out of Stock

Warriors: A Thief in Thunderclan

Out of Stock

Maker Comics: Conduct a Science Experiment

New!

Out of Stock

New!

Out of Stock

New!

Out of Stock

Charlie Thorne & the Curse of Cleopatra

New!

Out of Stock

Baby Sitters Little Sister Graphix #3 Karen's Worst Day