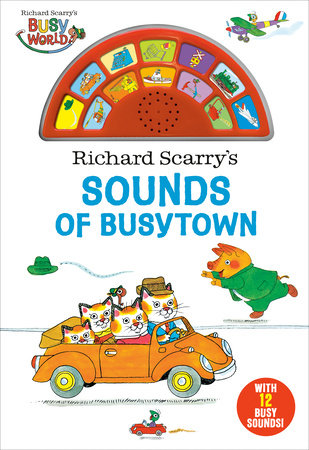 Picture Books
Richard Scarry's Sounds of Busytown
Visit Richard Scarry's Busytown in this interactive board book featuring 12 different sounds! Children will love to spot the icons, press the buttons, and listen to the fun, noisy and silly sounds of Busytown!

Introduce little ones to Richard Scarry's Busytown with this interactive board book. From noisy Main Street to a crowded supermarket, the twelve sounds featured in this Busytown storybook are sure to make kids chuckle and smile! 

The colorful sound module comes with a handy on/off switch, and batteries can be easily replaced.

With simple text and bold, colorful illustrations, this sound book is the perfect gift for new parents and a new generation of Richard Scarry fans. 
For up to age 3.
Read More
Brand
Penguin Random House
New!

Out of Stock

Richard Scarry's Sounds of Busytown

New!

Out of Stock

New!

Out of Stock

New!

Out of Stock