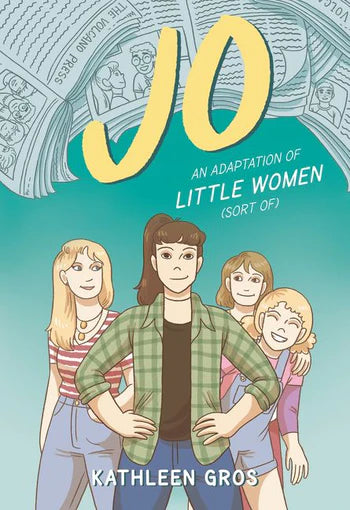 Graphic Novels
Jo: An Adaptation of Little Women (Sort Of)
A modern-day graphic novel adaptation of Little Women that explores identity, friendships, and new experiences through the eyes of thirteen-year-old Jo March. A must-read for fans of Raina Telgemeier.
With the start of eighth grade, Jo March decides it's time to get serious about her writing and joins the school newspaper. But even with her new friend Freddie cheering her on, becoming a hard-hitting journalist is a lot harder than Jo imagined.
That's not all that's tough. Jo and her sisters—Meg, Beth, and Amy—are getting used to a new normal at home, with their dad deployed overseas and their mom, a nurse, working overtime.
And while it helps to hang out with Laurie, the boy who just moved next door, things get complicated when he tells Jo he has feelings for her. Feelings that Jo doesn't have for him…or for any boy. Feelings she's never shared with anyone before. Feelings that Jo might have for Freddie.

What does it take to figure out who you are? Jo March is about to find out.
For ages 8 to 12.
Read More
New!

Out of Stock

Richard Scarry's Sounds of Busytown