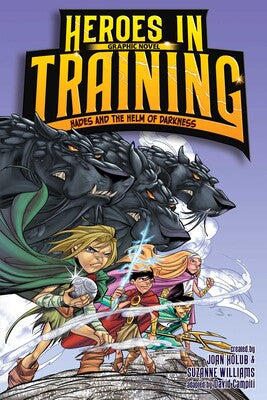 Play
Heroes in Training #3: Hades and the Helm of Darkness
Hades is the center of the (under)world in the third book of the graphic novel adaptation of the popular Heroes in Training series!

The Underworld usually isn't anyone's idea of a fun place—except for Hades. He loves the dark and even the stinky smell of sulfur! But there is one thing that Hades is not a fan of…dogs. And when Zeus and his fellow Olympians encounter Cerberus—a mean, snarling, three-headed dog—Hades must conquer his fears and tame the dog in order for everyone to continue on to the Underworld and drop off their Titan prisoner, Oceanus, back where he belongs!

With magical water that makes one forget, hot beds of lava, and another epic battle with two more Titans standing in their way, can Zeus and his heroes make it out of the Underworld with everyone intact?

New readers and old fans alike will enjoy these full-color graphic novel adaptations of the long-running Heroes in Training series.
For ages 8 to 12.
Read More
New!

Out of Stock