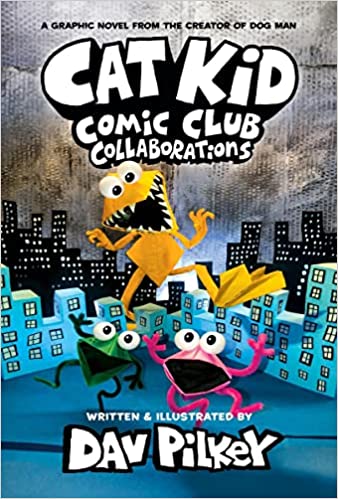 Cat Kid Comic Club #4: Collaborations
Excitement and imagination run wild as Naomi, Melvin, Poppy, Gilbert, Curly, and their siblings get back to making comics with originality and laughter. But wait -- have they cleaned their rooms yet?!
After their chores, the rambunctious group presents even more amazing mini-comics: a thrilling ride in "Chubbs McSpiderbutt," an action-packed romp in "Frogzilla," reflective haikus in "In the Autumn Pond," a candy-coated mystery in "Mallo Cop," and much, much more. By working together, the baby frogs discover that small things can have a huge impact.
In this innovative graphic novel series, award-winning author and illustrator Dav Pilkey employs a variety of techniques -- including origami, acrylic paints, colored pencils, photography, collage, gouache, watercolors, and more -- to capture the creative and joyful spirit of collaboration. The variety of art styles, paired with Pilkey's trademark storytelling and humor, inspires imagination and innovation for readers of all ages.
Read More