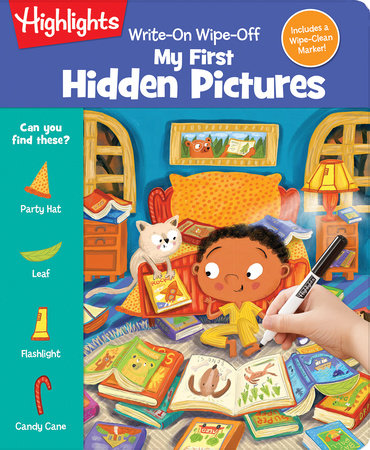 Write-On Wipe-Off My First Hidden Pictures
Puzzle fun to enjoy again and again! This spiral-bound dry-erase book contains preschool-friendly My First Hidden Pictures puzzles, words to trace, drawing prompts and more. The write-on, wipe-off design and included dry-erase marker let puzzlers 3-6 express their creativity and solve over 25 age-appropriate puzzles over and over again.
Filled with colorful illustrations, this activity book is specially designed to help kids develop visual perception and problem-solving skills while offering a unique and entertaining first-puzzling experience. The wipe-off design is perfect for young artists ready to show off their talents and start fresh when inspiration strikes. Kids will love that they can draw all over these books and wipe away their work like magic.
Parents will love that this My First Hidden Pictures book teaches kids to think critically through play. The colorful illustrations and puzzles keep kids engaged in skill-building activities that make learning fun. Plus, the spiral binding and sturdy wrap-around cover make it easy to take this book on the go for puzzle fun anywhere.
Read More
Brand
Penguin Random House