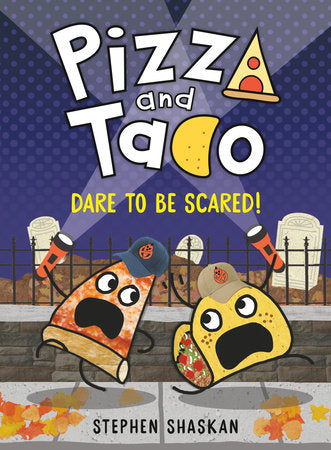 Graphic Novels
Pizza and Taco: Dare to be Scared!
Flashlights? Check! Scary movies? Check! Ghost Peppers?! Pizza and Taco are ready to prove they're brave as can be in their latest graphic chapter book! Nothing scares these besties…or so they say.

Pizza and Taco aren't afraid! To prove it, they dare each other to be scared. Dark closets and scary movies are a piece of cake—kind of. They're ready for the ultimate test—Ghost Pepper hunting! Pizza and Taco are sure they won't get scared…they made a list, after all! 
For ages 5 to 8.
Read More
Brand
Penguin Random House
New!

Out of Stock

Everything Awesome About Sharks

New!

Out of Stock

Everything Awesome About Dinosaurs

New!

Out of Stock

Dragon Kingdom of Wrenly #10: Out of Darkness

New!

Out of Stock

Hour of Need - The Daring Escape of the Danish Jews during World War II

New!

Out of Stock

New!

Out of Stock

Nell of Gumbling: My Extremely Normal Fairy-Tale Life

New!

Out of Stock

New!

Out of Stock

Zoo Patrol Squad #2: Run, Monster, Run!

New!

Out of Stock

Dragon Masters #24: Dawn of the Light Dragon

New!

Out of Stock

New!

Out of Stock

New!

Out of Stock

Pizza and Taco: Dare to be Scared!

New!

Out of Stock

New!

Out of Stock

New!

Out of Stock

Warriors: A Thief in Thunderclan

Out of Stock

Maker Comics: Conduct a Science Experiment

New!

Out of Stock

New!

Out of Stock

New!

Out of Stock

Charlie Thorne & the Curse of Cleopatra

New!

Out of Stock

Baby Sitters Little Sister Graphix #3 Karen's Worst Day